DAILY OPERATION
Drop checks in in the drop slot face down. This will keep the checks organize and easily accessible if one is needed.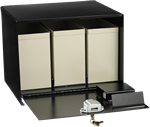 WHEN THE TIMER EXPIRES
Remove the left bin, empty and destroy the contents.
Rotate all bins to the left.
Lock the safe.
Reset the timer for the next prescribed time period. The process starts again.