Paitec MX13000 Pressure Sealing Solution
Shown with optional cabinet and vertical stacker
The Most Advanced Heavy Duty Desktop Pressure Sealer
The MX13000 is the most affordable heavy duty pressure seal machine in the market today with its fast 13,000 pieces per hour processing and with a monthly duty volume of 400,000 pieces.
It features our heavy duty four roller sealing unit, Reverse Friction Rollers to auto correct double feeds, an auto-lift feed tray which holds up to 1,400 pressure seal forms, and an optional vertical exit stacker which holds up to 650 forms.
PERFECT FOR PROCESSING
Paychecks
Invoices and statements
Tax forms
Utility bills
Expiration and renewal notices
Promotional coupons
Event invitations
Sale notifications
Medical results
Grade reports
ID cards
Auto Slide Conveyor
Large stacking capacity
Speed control knob
Automatic extension
Stacking Capacity
600 Sheets
Weight
17 lbs
Dimensions
20" x 12" x 6"
26" x 12" x 6" w/ extension
(W x L x H)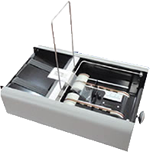 Vertical Stacker
Bottom sequential stacking
Compact size
Speed control knob
Stacking Capacity
700 Sheets
Stacking Order
Sequential
Speed Adjustability
Yes
Weight
27 lbs
Dimensions
20" x 12" x 6"
(W x L x H)
*** Specifications subject to change without notice ***
Form Size
Depth: Up to 14"
Width: Up to 9"
Input Tray
Up to 1,400 pressure seal forms
Speed
Up to 13,000 sheets per hour
Fold Settings
Quick set manual
Paper Weight
20 - 30 lb. bond
Infeed Type
Friction reverse roller with cooling fan
Manual Feeder
Process single or damaged forms
Fold Type
Z
EZ
C
EC
V
Double Parallel
Batch Counter
Auto start for job separation
Double Detection
Automatically detects double feeds
Output Capacity
Auto-extending conveyer stacker (650 sheets)
Vertical/Sequential stacker (650 sheets)
Printer Interface
Dual-purpose (in-line and stand-alone)
Duty Cycle
400,000 forms per month
Weight
227 lbs
Size
16" x 24 " x 24" - without conveyor
(W x L x H)
*** Specifications subject to change without notice ***