Letter Openers / Extractors:
Don't see the item you were looking for?
---
You might also be interested in:
Agissar Triple Cut - Single Operator Extractor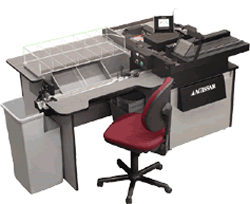 This is simply the fastest semi-auto extraction configuration used in remittance applications.
If your application incorporates the use of windowed envelopes and 85% coupon/check-only type transactions then, split screen films with clock and counter indicate that that this moving-conveyor type design will beat a one-at-a-time type presentation-for-grasp by as much as 25%.
The impact of ARC and check 21, along with Pocket-select software run on your Image platform – make this solution, along with our scaleable Thickness/Metal Outsort and Auto Stacker (our ACE configuration)…your most FLEXIBLE choice.
Opens top and both sides of envelope for three-sided slicing
Cycles up to 4,500 envelopes per hour
Variable speed control on conveyor
Vacuum feed design (versus friction feed) eliminates double feeding
CDM (Contents Detection Monitor) reads contents channel and each side panel of the envelope for loss prevention of unextracted contents
Ergonomic Balance - all sortation bins are within 14-16 inch reach, meeting OSHA's reach standards
Allows extraction speeds up to 3,200 envelopes per hour
Adjustable and self-sharpening tool steel blades for accurate and precise cutting
Ergonomically designed work surface
INFOPointe® Real-time Data Collector
Envelope Specs
Handles envelope sizes ranging in size from 3 1/2 inches high by 5 1/4 inches long to 4 7/8 inches high by 9 1/2 inches long.
Dimensions
72.5"W x 40 "D x 35 "H - view footprint
Weight
250 lbs
Electrical
117 volts; 60 hz; 15 amp
Heat Emission
4500 BTU/hour
All technical data and dimensions are approximate values