SC 303/313 Coin Wrappers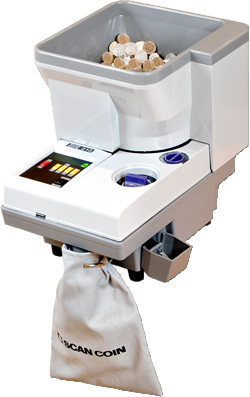 SC313
With counting speeds up to 2,700 coins/minute, the SC 303 and SC 313 are real time-savers.
Reliable for banking, retail, amusement and other businesses that need to count, verify or bag coins or tokens.
Microprocessor controlled with non-volatile memory for storing all vital data--no battery backup required.
Three memory levels with a subtotal, grand total and a separate bag count memory.
Electronic sensor with no moving parts for accurate counting.
Easy to use with two clearly marked denomination selector knobs controlling diameter and thickness setting.
Model 313 is equipped with automatic coin hopper volume 3000 cc. Model 303 has a tilting tray.
Pre-programmed stops, up to 7 different values, with manual override, from 1-10,999 and infinity.
Automatic disc reverse for jam clearing and shut off when no more coins are detected.
Small coin off-set allows separation of mixed denominations.
High speed--up to 2,700 coins/minute.
Standard machine has settings for all six denominations (SBA, 50c,25c,10c,5c,1c) and can be easily adjusted to dia.55-1.33"(14-34mm).
Easy to read six digit green LED display.
SC303 comes with carrying handle as standard for easy portability.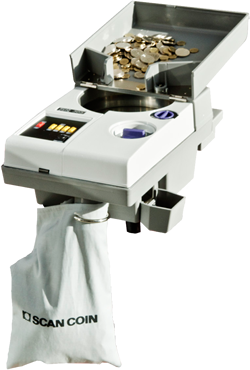 SC303 shown with optional PT025 Packaging Insert
Side bagging attachment (included with machine).
Guides for filing small bags (use together with adapter).
Adapter for insert holder/wrapping inserts or guides.
Insert holder for wrapping inserts.
Wrapping inserts for Scan Tubes and gun shells.
Color-coded wrapping inserts for flat wrappers, gun shells and Scan Tubes.
Large reject tray, volume 1,600 cc.
Hopper Extension kit for sc313 volume of hopper 4,800 cc with hopper extension kit.
Coin Speed
Up to 2700 coins per minute
Coin / Token Diameter Range
.55-1.33" (14-34mm)
Coin Thickness Range
.04-.13" (1-3.4mm)
Voltage
120 VAC 60 Hz
Power
55W
Dimensions SC303:
9" W x12.8" D x 6.5" H (stored)
9" W x 19.3" D x 9" H (in use)
Weight: 16.5 lbs
Dimensions SC313:
10.3 W x 15" D x 12.2" H
Weight: 23 lbs
*** Specifications subject to change without notice ***
360° Canned Air
360° canned air has a special no-frost, "SPRAY ANYWAY" valve lets you spray from any angle even upside down without frosting (expelling contents as a liquid). Gust contains 100% pure tetrafluoroethane. Non-flammable and non-ozone depleting.
With 360° canned air you can reach those hard to reach sensors without possible frosting harm to the sensors.
Cleaning Rags
Low linting and soft enough for precision cleaning, yet strong enough to replace shop towels. Polybagged in packs of 50 wipes each.
Snap Swabs
(10, 25 or 50 pack)
These cleaning swabs 4.5" handle is a small tube containing Isopropyl Alcohol. When snapped, saturates the foam tip.
Cleans many surfaces, such as: scanner rails, printheads, computer keyboards and other hard surfaces
Cleaning Swabs
(12, 50 or 100 pack)
Ideal for removing stubborn dirt from platens, pinch rollers, seal rollers, capstans, keyboards, and more. 0.6 x 0.9" foam tip on 5.0" plastic handle.
Please check out the rest of our
products
or contact a for more assistance on new and reconditioned machines.